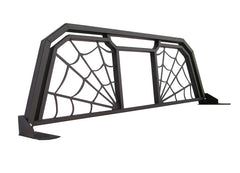 WANT TO STAND OUT FROM THE CROWD?
Ordering one of our signature series headache racks for pickups is easy! Simply select the pickup truck headache rack that best suits your tastes and needs. All feature our unique inner-outer frame design and all-steel construction that is fully welded for outstanding durability and long life. 
Want full protection across your back window? With our truck headache racks, we've got you covered (literally). Want to maintain convenient window pass-through? We've got design versions for that too.
Take your chosen design to the next level with optional add-ons that'll extend versatility and truly make it your own. Once fabricated, your headache rack is meticulously prepped, primed, and top-coated with a fine texture, satin-black powder coat finish.  
You won't find any mass-produced-imported-junk here. Each and every one of our headache racks is built to order and hand crafted right here in the USA.

If you're looking for something beyond even our catalog racks found here then you'll want to check out our custom headache racks for trucks.