Toyota Truck Headache Racks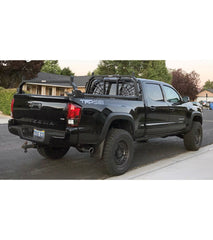 Toyota Truck Headache Racks by Spyder Industries: Protect Your Truck and Look Good Doing It
As a Toyota truck owner, you know that your vehicle is more than just a means of transportation. It's a part of your lifestyle, and you want to keep it looking good and functioning at its best. One way to do that is by investing in a high-quality Toyota Truck Headache Rack from Spyder Industries.
At Spyder Industries, we understand that Toyota trucks are popular vehicles among truck enthusiasts. That's why we specialize in designing headache racks for specific Toyota truck models like the Tundra and Tacoma. Our racks are designed to fit perfectly with each specific model, ensuring that you get the best performance and style from your Toyota truck.
Our Toyota Truck Headache Racks come in several designs, including the classic diamond pattern and louvered racks, as well as unique designs like our Black Widow (spider web) and honeycomb pattern. No matter what design you choose, you can be sure that your Toyota Truck Headache Rack will make your truck stand out from the crowd.
You already know that your Toyota Truck was made in America. And like your truck, our headache racks are also made in the USA with high-strength, durable steel. We use the best materials to ensure that our racks are built to last. Additionally, all our Toyota Truck Headache Racks are powder-coated for long-lasting protection from damage and rust. You won't have to worry about your rack deteriorating in harsh weather conditions or extreme usage.
If you own a Toyota truck, our headache racks are perfect for you. Our racks provide extra protection to the back window of your truck, which is especially important if you carry heavy loads or drive on rough terrain. With our Toyota Truck Headache Racks, you won't have to worry about your cargo crashing through the back window in case of an accident.
Our Toyota Truck Headache Racks are also designed to secure your cargo. With our racks, you can load up your truck bed without worrying about your cargo sliding around or falling out during transport. Our headache racks provide a secure barrier to hold your cargo in place, keeping it safe and secure on the road.
Click an image